Wednesday, February 13, 2013
Moscow Russian Bathhouses Overview by the Novye Izvestia!
Going to Russian bathhouses is a deeply rooted, age-old Russian tradition. Though these days Muscovites largely prefer to remain within the confines of their home bathroom, city steam rooms abound in clients. The Novye Izvestia daily newspaper has made an overview of the services, provided by the capital's most popular Russian bathhouses, eager to know, how much for the steam?
Sanduny Baths
(Сандуновские бани), due to its impressive pricelist, are probably not the most frequented, but surely the most famous. Here, in their almost palatial halls, you can easily encounter some of the Russian beau monde, or even a Hollywood star, for whom it's like an attraction "à la russe". Sanduny is Moscow's largest Russian bath complex, featuring 1 section for men and 2 for women.
The first male top division can accommodate up to 100 people, providing general hall, separate cabins, and a swimming pool. However, you have to pay for the pleasure – one 2 hour session is 2100 RUR. Here you can rent a bathrobe, a sheet, or a towel, for 150-350 RUR.
The price for a separate cabin for 2 hours ranges from 3000 to 6000 RUR. Plus professional steamer's or washer's services – 1200 and 1000-1800 RUR respectively.
The second male top division prices are more moderate, 1 session – 1800 RUR; 1 cabin – 2800-5000 RUR
However, if you choose the first division, prices will be still friendlier: 1 session – 1500 RUR, preferential price – 300-400 RUR.
Sanduny's female divisions are practically spa-salon, where the ladies can enjoy blanket bath, Charcot's douche, peeling, and solarium. 1 session lasts 3 hours, pricing at 1300-1700 RUR, moreover, certain visitors can aspire to get a reduced price.
Besides, bathhouses of such level always feature a restaurant, a beauty salon, and even a laundry, where your clothes will be not only washed and ironed, but even mended, if necessary.
Seleznev Baths (Селезнёвские бани), are the ones of the oldest in Moscow, but here comfort and coziness is emphasized, rather than luxury. The visitors are scarce on weekdays, whereas weekends are overcrowded. As far as the steaming room is concerned, novices may find it too hot, though habitués praise it for the perfect temperature regime. Prices are customer-friendly; one 2 hour session – 1100 RUR on weekdays and 1200 RUR for the weekend; female section – 950 RUR and 1100 RUR respectively. From Tuesday to Friday you can purchase reduced fare ticket (400 RUR) before noon.
As far as the interior design is concerned, even after renovation works there is little luxury, the cloak room is even a bit small, though the steaming room is pretty spacious, and that is its main asset.
As everywhere else, sheets and towels are available for rent. You can also purchase some birch twigs to fit your taste. However the steamer's services are not on the pricelist, perhaps the price is contractual.
Extended services include a hairdressing, massage, and manicure salons, as well as dry cleaning.
Warsaw Baths
(Варшавские бани), that used to have a pretty shabby appearance, super-economy class, a local community centre, has been transformed into a luxurious four storey health & fitness centre with a wide range of extended services over the last year. Its interior design can very well rival the imperial style of Sanduny. Men's section has brutal somber wooden decoration, traditional Russian bath style, whereas women's section reminds you rather of the light and spacious thermae of a raja's palace.
One 3 hour session costs 1300 RUR, reduced fare tickets also available. As far as steamers' services are concerned, here the rule is "anything for your money". You can try introductory, rubbing, or comprehensive steaming, being just a tiny little bit of all services, indicated on the pricelist, to say nothing of massage and spa.
Rzhev Baths
(Ржевские бани), situated in the "right" place, that is to say, in the Bath side street (Banny pereulok, Банный переулок), are famous for their "soft steam". The latter, according to connoisseurs, is produced by unique arched steaming rooms, which had not been rebuilt since the bathhouse's establishment. Unlike many a rival, this bathhouse is equipped with its own boiler room.
Rzhev Baths feature men's and women's sections, a swimming pool, recreation zone, and a steaming room. One 3 hour session costs 900 RUR, a bit more expensive for the weekend, war veterans are catered for free at fixed hours of the day. You can also rent a separate cabin for 1000-1300 RUR per 1 hour. It goes without saying, that all accessories are also available.
Extended services include a café and a full-fledged beauty parlor, massage and hairdressing salons.
Izmailov Baths
(Измайловские бани), are considered to be a perfect venue for family leisure, that's why they are frequented by a lot parents with children. Moreover, everything is always spotlessly clean here, the quality that catches the eye first of all is such facilities.
One more distinctive feature of the place is the absence of men's and women's sections. Of course, that does not mean that men steam with women; instead shifts are scheduled 4 days of the week for men, as more avid steam-lovers, and 3 days – for women.
Experts say the steam here is real good, the steamers give it incessant attention. The swimming pool, however, leaves much to be desired, for it's not fit for a hearty swim, just a dip or two after steaming. Administration's policy is ask the clients to make a preliminary order via telephone for a 2 hour-session. The reason for such strict discipline is that the two steaming rooms can accommodate only 60 visitors. As far as the pricing is concerned, it can be boldly defined as more than reasonable: 1 session – 540-600 RUR, depending on the room type. Children and retirees enjoy a 50% discount.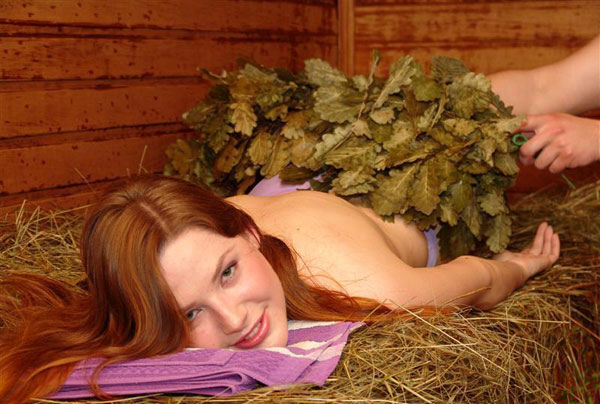 Story by: Yekaterina Nadrova
Last update: Wednesday, February 13, 2013 4:59:19 PM